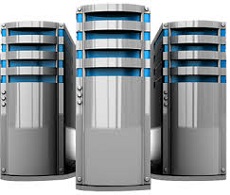 When it comes to hosting your small business website, you may be struggling with all the different options available to you. There are lots of different types of hosting, many companies and varying price ranges too.
In this article we are going to take a look at the main differences between the types of hosting packages on offer so that you can find what works best and what to avoid with your business. Hosting is one of the most important things when it comes to actually turning visitors into customers as a website that is down all the time or slow won't result in any business at all, so it pays to be prepared.
There are four main types of hosting on offer:
Dedicated
This is your high end hosting designed for websites with thousands of visitors every single day and heavy users. This basically means users that are downloading music, videos or even just watching videos directly on your website in large volumes. Most small businesses won't need this level of hosting, but it is worth keeping in mind for if your website does get a lot of traffic later on.
VPS
FDC VPS servers are probably your best bet when it comes to hosting for your small business. They provide all the speed, site loading, and SEO (search engine optimization) benefits, and are safe and secure too. Plus VPS servers don't cost the earth like dedicated servers do, yet they still provide the flexibility to upgrade if your usage does increase or you notice your site is getting a little sluggish to load.
Shared
Many people make the mistake of starting with shared hosting. The main issue with this is shared is exactly as it says on the tin. This means you have hundreds or thousands of other websites all packed onto the same server, which ultimately means that if someone else's website gets a lot of traffic tomorrow, then your website will either stop loading completely as the server cannot cope or will just be extremely slow, and when each visitor is a potential customer, it is vitally important you don't sacrifice on quality here.
Shared hosting plans are fairly cheap though, so if you are on a tight budget and are only just starting out then you can get away with it, just don't make it your long term hosting solution.
Free
This is the type of hosting you want to avoid like the plague. Free plans are prone to constant attacks, and they're often used by hackers to host their websites or other illegal activities that you really don't want your website associated with.
Likewise, free hosts can just be loaded with loads of ads, which then means your website is covered in adverts run by the hosting company, which is where they make their money. However, having lots of ads could lead to your site visitors getting annoyed and probably not wanting to do business with you.
Hopefully this has cleared things up for you, but we would definitely recommend getting at least shared hosting, but preferably a VPS server to host your website, as after all every lead counts and you don't want to lose business before your site even gets going.